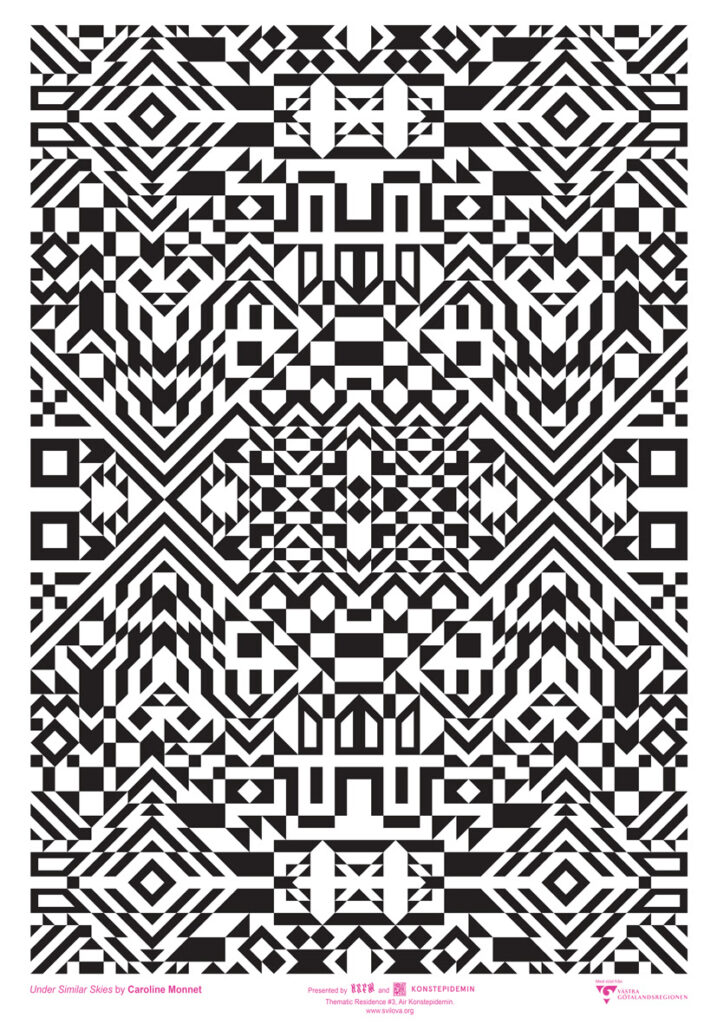 Under Similar Skies (2022)
By Caroline Monnet
100 x 70 cm, 115 gsm, edition of 250 prints.
2022-02-24 – 2022-03-31 
 
In collaboration with Konstepidemin and their international Thematic Residence, we launch our outdoor exhibition program for 2022 with Montreal-based multidisciplinary artist Caroline Monnet. The exhibition is a self-initiated public art project in poster format displayed on 31 public billboards around Gothenburg, and will run 2022-02-24 – 2022-03-31 or until we run out of posters!
Monnet uses visual language and media-based art to communicate complex ideas around Indigenous identity and bicultural living. Through the examination of cultural histories, her work grapples with the impact of colonialism, and by updating outdated systems with indigenous methodologies. Monnet has made it her signature to work with industrial materials, and by combining the vocabulary of popular and traditional visual cultures, mixed with the tropes of modernist abstraction to create unique hybrid forms.
The artist is currently doing a residency at Konstepidemin in Gothenburg, where her exhibition When River Meets The Sea between is up until 2022-03-06.
ABOUT THE ARTIST
Caroline Monnet (Algonquin/French) studied Sociology and Communication at the University of Ottawa (Canada) and the University of Granada (Spain) before pursuing a career in visual arts and films. Her work has been featured in numerous international exhibitions and collections, including a recent solo exhibition at the Montréal Museum of Fine Arts, the Whitney Biennial in NYC, the Toronto Biennial, the Schirn Kunsthalle Frankfurt, and the National Gallery of Canada. Her films have been shown at the Sundance, Palm Springs, Göteborg, and Toronto International film festivals. In 2020, she won Canada's prestigious Sobey Art Award.