Trailer from 'Y'all Better Quiet Down!/Hallå, kan ni lugna ner er!
The video is not longer available for online exhibition.
Conny Karlsson Lundgren
Y'all Better Quiet Down!/Hallå, kan ni lugna ner er!
9 min, HD, color/sound, 2013
  | The video is best viewed in full screen mode  |
.
.
CONNY KARLSSON LUNDGREN | Y'all Better Quiet Down!/Hallå, kan ni lugna ner er!
March 2–April 6, 2014
Introduction text by Anna Linder & Hanna Högstedt 
' I do not believe in a revolution, but you ought to! ' 
In 1973, the transgendered activist and Young Lord's member Sylvia Rivera holds a powerful and defining speech in Washington Square Park NYC, where she accuses a relatively new-formed LGBT-movement of being white, neoconservative, excluding, racist and trans-phobic. After being thrown off stage Rivera leaves the political scene and NYC for 20 years. The short film, Y'all Better Quiet Down/Hallå, kan ni lugna ner er!, is based on a transcription of Rivera's speech, and a performative manifestation is created together with a theatre group who work with a queer feminist agenda, in a collectivist spirit.
In conjunction with the exhibition the artist and curator Anna Linder together with filmmaker Hanna Högstedt has written a speech that opens a dialogue with Rivera's speech from 1973. A pdf with their speech and additional information can be read in the following image/link:
.
.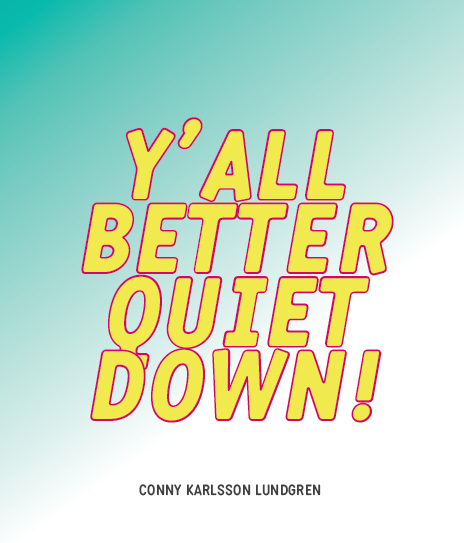 click image to open link 
Y'all Better Quiet Down!/Hallå, kan ni lugna ner er! is an independent part of the work series The Sylvia Fractions and made possible through the archive at the LGBT Community Center, New York US.
ABOUT THE ARTIST
Conny Karlsson Lundgren (b. in Västervik, Sweden) graduated from Valand Academy in 2003. His work has been featured at Kunsthall Nikolaj Copenhagen Centre for Contemporary Art, Gallery September (project space, solo), the 5th Berlin Biennale both in Berlin, Documenta Magazine Project Kassel and The New Whight Gallery Los Angeles. Recently he showed at Gothenburg Art Museum (Solo two artists), Gallery 54 (Solo) and CFF — Centre for Film & Photography in Sweden. He also participated in exhibitions at Moderna Museet Stockholm and Bildmuséet Umeå. During 2013 he had a major solo museum exhibition at Kalmar Art Museum and took part in a six months Studio Residency at IASPIS. In 2014–2015 he will participate in the Studio Research Programme at Jan Van Eyck Academie in Maastricht, Netherlands.
For more information about the artist please click HERE
For a Swedish/English printer friendly PDF of  the speech, please click HERE