| The video is best viewed in full screen mode  |
>
 Trailer from Universal Minimum Wage Commission 
The video is not longer available for online exhibition.
Elmas Deniz
Universal Minimum Wage Commission
 DVD Video,  German with English subtitles, 30′ 30″, Vienna, 2013
.
.
ELMAS DENIZ | Universal Minimum Wage Commission
April 22–June 2, 2014
Introduction text by

Pelin Tan
As part of the project

'Paletten and the International in Gothenburg'

, Svilova proudly presents the Turkish artist Elmas Deniz's video work "Universal Minimum Wage Commission". The video is a discussion program recorded in Vienna in 2013. In the programme, four participants discuss the utopian question of a global minimum wage and its possible consequences.
In conjunction with the exhibition, the artist and curator Pelin Tan has written an introductory text; "The fear of Poverty", which provides insight into both this particular video and Deniz´s oeuvre as a whole. A pdf with the text, in English and in Turkish, can be read at the following image/link: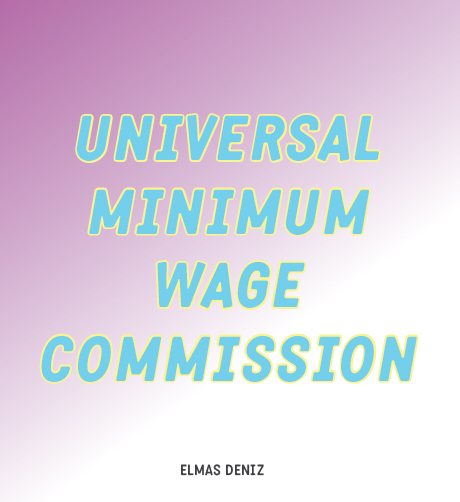 .click image to open link 
ABOUT THE ARTIST
Elmas Deniz (b. 1981) is based in Istanbul. Her practice is conceptually driven and includes installation, sculpture, video, drawing, curating and writings. Recurring topics in her work are globalization, governmental control, urbanism and economy. E. Deniz is initiator of several artist-run projects, and she is co-editor of the journal Sanat Dunyamız.
Universal Minimum Wage Commission

was realized in OCTO Community TV-GmbH and  the program was broadcasted by OKTO TV. Produced for UNREST OF FORM/Imagining the Political Subject Exhibition by Wiener Festwochen, SECESSION, Academy of Fine Arts Vienna in cooperation with Museums Quartier Vienna in May 2013.
With Sebastian Leitner, Stephan Schulmesiter, Monika Vykoukal and Peter Huemer.