Trailer from 'Guards'.
The video is not longer available  for online exhibition.
SVILOVA 

is proud to present the video work Guards by Hito Steyerl.
Hito Steyerl has become known both as a filmmaker and theorist since the early 2000s. In her often essayistic films, we get to follow a subjective search while at the same time narrative is broken up and exposes uncertainty about where the story is going. Questions about how images are produced, interpreted, translated and filtered through a wide range of recipients is recurrent in her work. Steyerl´s observations move smoothly between being a critical and analytical voice of our digitized world and self reflexive analysis always portrayed with warmth and humor.
In Guards from 2012, Steyerl examines issues of national security and surveillance around cultural treasures. The film was made on commission for The Art Institute of Chicago and shows interviews with the museum's security staff who have military and law enforcement background.
On the occasion of the exhibition, artist and curator 

Andrey Shental

 has written an introduction text . You can read Shental´s interactive  PDF in the link below.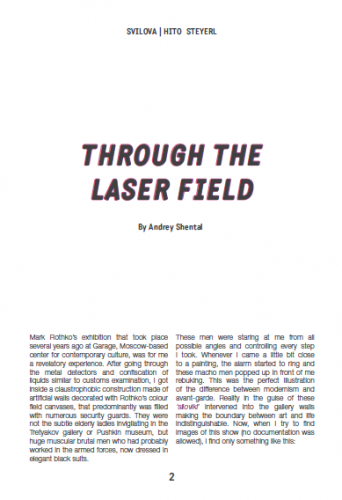 ABOUT THE ARTIST
Hito Steyerl (b. 1966) has produced a body of work as a theorist and a filmmaker. Examples of her work are The Wretched of the Screen, an essay book published by e-flux journal in 2012, and the films November (2004) and Lovely Andrea (2007). Hito Steyerl holds a PhD in Philosophy and is a professor in Media art at the University of Arts, Berlin. Her work has been shown in the Venice Biennale, Manifesta 5 and Documenta 12. She currently lives and works in the city of Berlin.