bpNichol
First Screening
9:19 min, 1984
   | The video is best viewed in full screen mode  |
.
bpNichol | First Screening
JULY 23–AUG 28, 2016
SVILOVA

is proud to present First Screening by Canadian poet bpNichol. Originally designed for The Apple IIe (one of the first successful and mass-produced personal computers), First Screening is a set of twelve kinetic poems that u

nfortunately became inaccessible when the Apple IIe was discontinued.
Distributed
on 5 ¼ floppy disks in a numbered and signed edition of 100,

First Screening is not only one of the first works of

programmed kinetic poetry,

but also one of the first examples of digital publication and distribution before the rise of the Internet and other digital

distribution platforms

.
On the occasion of the exhibition, Canadian artist and author Alex Turgeon has written an introduction text that can be read in the link below.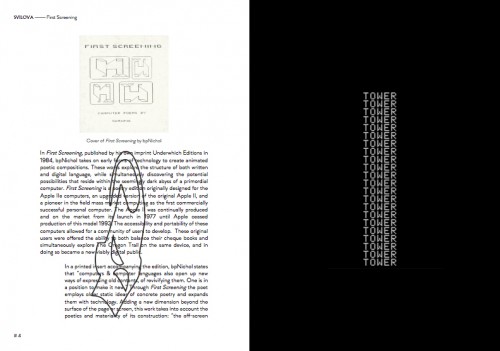 Click image to open the pdf link
ABOUT THE ARTIST
bpNichol

(B. in Vancouver, British Columbia, 1944), was one of Canada's most important poets. In his lifetime he wrote concrete poetry, novels, short fiction, musical scores, computer texts and scripts for the muppet-based children's show Fraggle Rock. bpNichol died in Toronto, Ontario on September 25, 1988.
ABOUT THE WRITER
Alex Turgeon

is a Canadian artist based in Berlin.
*We would like to thank Eleanor Nichol for giving us the right to show online First Screening at

SVILOVA

.