| The video is best viewed in full screen mode  |
Karin Michalski
MONIKA M.
20:29 min, 2003
.
KARIN MICHALSKI

 | MONIKA M.

JUNE 26–AUGUST 23, 2015
Introduction text by
Johanna Gustavsson
"We live in a polymorph, perverted, paradoxical, patriarchal and pedophiliac society!" Monika M.
SVILOVA is happy to introduce Monika M. a video work by the artist Karin Michalski; here presented together with a text by artist Johanna Gustavsson.
Monika M. was originally produced on commission from the TV channel 3sat, in conjunction with the German election campaign 2002. The main character portrayed by the artist and filmmaker Karin Michalski is not affiliated with a political party but speaks on a personal plane about various forms of oppression.
In the movie we are ushered through the protagonist's irate and frustrated reasoning about nuclear families, sexual violence and pornography, and how a capitalist world order thwarts the wellbeing and existence of people on all levels. Her speeches are very direct and intense but also humorous and sarcastic. She is claiming that her personal injuries and her living conditions have to be seen in a broader political context.
In the text I resigned from my own existence yesterday. It was a political murder and I would like you to address it as such because I think one should call things by their right name, written by Johanna Gustavsson, another voice emerges in identification with the protagonist's (of Monika M.) political frustration. A voice that speaks of struggle, of a body on fire, all the while having to fight to avoid being extinguished.
You can read the entire text in the following link: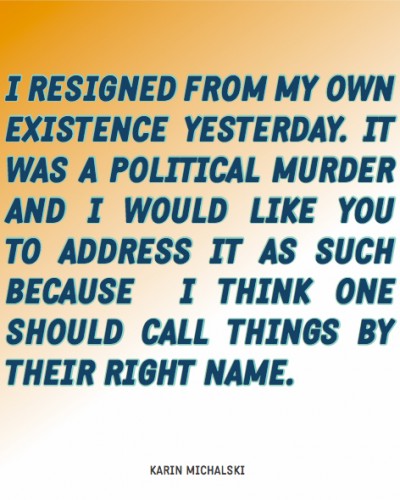 ABOUT THE ARTIST
Karin Michalski works as a filmmaker, artist and film and videoart curator and lecturer in Berlin. She studied Film Directing and Production (creative producing) at the German Film and Television Academy Berlin (dffb) as well as Journalism, Political and Educational Science at the universities of Mainz and Berlin.
Since 2001 she has been organising the queer-feminist Film and Video Art Program series clipclub (in collaboration with Renate Lorenz and other curators) and she works as a Film and Video Art Curator, creating programs for art institutions, festivals and conferences. In 2011 she edited the art fanzine FEELING BAD – queer pleasures, art & politics with contributions by Ann Cvetkovich, Sabian Baumann, Renate Lorenz, K8 Hardy, and Dafne Boggeri (the title refers to Ann Cvetkovich's term "feeling bad" in: An Archive of Feelings, Trauma, Sexuality, and Lesbian Public Cultures, Duke University Press, 2003).
She received the LBC Award for the Most Promising Newcomer in International Documentary at the Bird's Eye View Women's Film Festival in London in 2005.
ABOUT THE WRITER
Johanna Gustavsson is an artist currently based in Gothenburg, Sweden. Her work focuses on feminist, race and class-related issues, through mediums such as text, performance and social interactions. Her work has included numerous collaborations, e.g.: FAGS Feminist Art Gallery Solidarity, Radikal pedagogik, MFK–Malmö Free University for Women, the YES! association, I want a president… , Nobody Puts Baby In A Corner, The Production Unit.
She recently released her first novel – jag gör vi varje dag – which portrays an I who is on the edge of common sense, and keeps on walking. The novel's first chapter contains a conversation between characters Simone Weil, Julia de Burgos, Lolita Lebrón and Johanna Gustavsson. In August 2015 during a residency at Flutgraben in Berlin she will further develop that dialogue, adding Monika M. as a character. The new piece will be presented together with a screening of Monika M., Michalski's The Alphabet of Feeling Bad, and Gustavsson's Open Letter to a Working Comrade 1936/2013.
Johanna Gustavsson was educated at Valand Art Academy in Gothenburg, Sweden, and at the Whitney Independent Study Program in New York, US.