Manuel Solano
The Victory Of Good Over Evil
3:25 minutes, 2012
 Recorded and transmitted by TV channel CAP Canal (Lyon, France).
   | The video is best viewed in full screen mode  |
_
_
MANUEL SOLANO | VARIOUS WORKS
MARCH 27–MAY 1, 2017
Introduction text by
José Luis Sánchez Rull
SVILOVA
proudly presents online four video works by Mexican artist Manuel Solano: The Victory Of Good Over Evil (2012), Believe (2012), The Lost Body (2014) and The Body That I found #2 (2015).
Reflecting on the visual imagery produced by queer and pop culture, Solano´s intimate and autobiographical work manifests itself in video, performance and painting. All works created from 2014 onwards were produced after the artist became blind for life as a result of an HIV-related infection.
" I grew up a misfit in the suburbs of Mexico City where, from an early age, my gender ambiguity and artistic temperament set me apart from other kids and fueled my impulse to express myself through artistic creation. As a teenager, I realized making art would be my means to bridge the inescapable gap I found between myself and the world. In early 2014, having been denied access to retroviral treatment, I became blind for life as a result of an HIV-related infection. It seemed like I would have to renounce my artistic career dreams to become the kind of blind individual my world expected me to be; but I, a born rebel, determined to make more art than ever before…"
The video exhibition is accompanied by a text written by the artist and professor José Luis Sánchez Rull.
–
Manuel Solano
Believe
3:27 minutes, 2012
–
Manuel Solano
The Lost Body ( El Cuerpo Perdido)
7:28 minutes, 2014
–
Manuel Solano
The Body That I Found #2 (El Cuerpo Que Encontré #2)
2:38 minutes, 2015
–
You can read the text by José Luis Sánchez Rull in the PDF link below:
–
 ____________________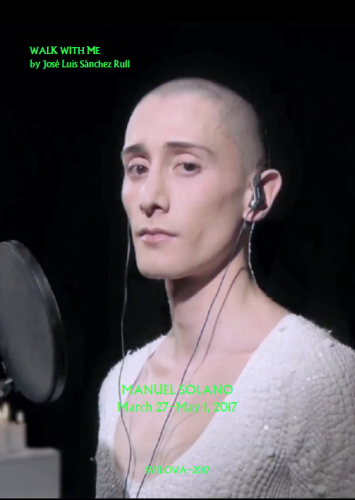 Click image to open the pdf link
ABOUT THE ARTIST
Manuel Solano 
(b. 1987) studied at ENPEG La Esmeralda in Mexico City and ENSBA in Lyon, France. Recent exhibitions and screenings include Punchis Punchis @ Museo de Arte Carrillo Gil (Mexico City, 2016); Sigourney Weaver @ Bikini Wax (Mexico City, 2015) ; Just Mad Art Fair (Madrid, 2016); Straight from Mexico City @ Ruiz-Healy Art (San Antonio, Tx, 2016) and Punk Povera at WUHO Gallery (Los Ángeles, California, 2016) among others.
ABOUT THE WRITER
José Luis Sánchez Rull

 (b.1964) is an artist, professor and performer based in México. He holds a BFA from Pratt Institute (BKLYN N.Y.). He has taught for many years both production and theory workshops at the National School of Painting, Sculpture and Engraving (E.N.P.E.G. "LA Esmeralda"). From 2011 to 2016 he was a member of the National Creators System (S.N.C.A.) Conaculta – Fonca. His work has been shown nationally and internationally, in group and solo and with the collective G:H:E (Gabinete Homo Extraterrestre). Amongst his exhibitions can be included: RADIOACTIVE CEMETERY!!!, Museo del Chopo CDMX 2014/THE FORTRESS OF SOLITUDE, Anonymous Gallery CDMX 2012/THE PROVERBS OF HELL, Iago, Oaxaca 2011 & with the G:H:E:; DESTROY ALL YOUR HUMANITY, The Mistake Room, Los Angeles, California 2017.
_