| The video is best viewed in full screen mode  |
Meira Ahmemulic
Foreign Land
06:13 min, stereo, 2014
.
MEIRA AHMEMULIC 

DECEMBER 19 2014–FEBRUARY 8 2015
Introduction text by
Khashayar Naderehvandini  
SVILOVA proudly presents the world premiere of the video work Foreign land by the artist Meira Ahmemulic.
For her exhibition at Svilova, Ahmemulic has finished a new work, showing the artist's mother walking around in the area where Ahmemulic grew up. Her mother's walking and the text being read over the film seem to work together as a kind of transportation, both to and from a common, yet undefinable point or place. Poet Khashayar Naderehvandi writes in his introductory text:
" It seems to be about distance. Or perhaps a certain stance – adequately described as a cold point of view, stripped of the comfort of proximity; no embraces, no reconciliation, only the cold recording of an attentive, dissecting eye."
You can read read the rest of the text in English/Swedish in the link below:
..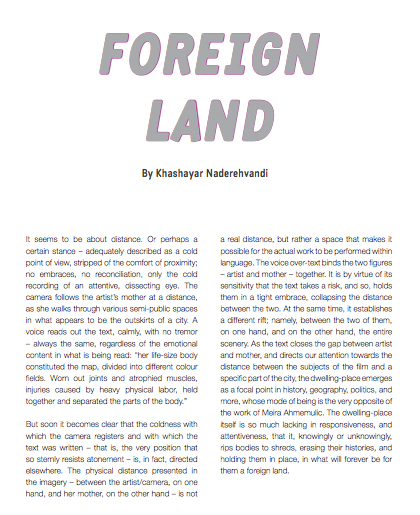 Click image to open the pdf link
ABOUT THE ARTIST
Meira Ahmemulic was born in Halmstad, Sweden and works in Gothenburg and Berlin. Her works often deal with language and migration, family and dislocation – geographically and in terms of class. Ahmemulic studied at  Valand Academy and is also a published author. Together with the artist Thomas Wizcak she is releasing Wetterstation Berlin in December at Kning Disc about Americas largest monitoring station in Europe during the Cold War.