Rustan Söderling 
Eternal September
18:11 minutes, 2016
   | The video is best viewed in full screen mode  |
*TRAILER VERSION* The video is not longer available  for online exhibition
.
RUSTAN SÖDERLING | ETERNAL SEPTEMBER

NOVEMBER 17-DECEMBER 22, 2016
Introduction text by
Sebastian Rozenberg
_
For our last online exhibition of 2016, SVILOVA proudly presents Rustan Söderling's Eternal September.
Thank you, water,
we love you, water,
we'll take good care of you, water
The video is accompanied by a text written by the artist and author Sebastian Rozenberg.
Read the text in the pdf below:
_ 
_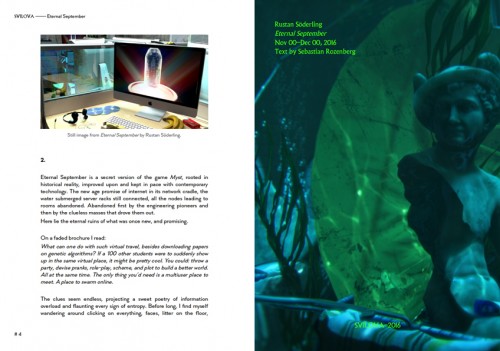 Click image to open the pdf link
ABOUT THE ARTIST
Rustan Söderling 

(b. 1984, Gothenburg, SE) lives and works in Amsterdam NL. He studied at Gerrit Rietveld Academie, Amsterdam NL, graduating in 2009. Söderling works with video, print, writing, editing and design.
Recent exhibitions and screenings include the fifth Moscow International Biennale for Young Art, Moscow RU (2016); Hidden Depths, Cosmos Carl (online platform) (2016); Feeling in the eyes, Tenderpixel London, UK and Man in the Anthropocene, Harbinger, Réykjavik IS (2015); The Post-Material Antiquarian, Fanfare, Amsterdam NL, and No Time to Hang!, Mat Kissing, Amsterdam NL (2015);Transformers, Beurschouwburg, Brussels BE (2014).
ABOUT THE WRITER
Sebastian Rozenberg

 (SE) is an artist, poet and editor based in Stockholm.
_